Details
Heli, TREX 500 Pro DFC Combo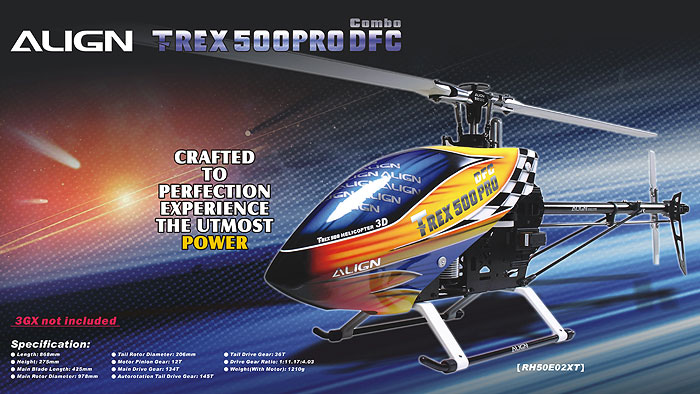 Following the design and manufacturing excellence of Align, T-Rex 500E PRO DFC is a new generation of 500 class helicopter with exclusive innovations.

Equipped with the trend setting, low CG DFC rotor head, providing the most direct and precise control feel back to the pilot. Composite technology is used throughout the side frames which cleverly strengthen the weak areas, and eliminated servo mounting nuts to simplify maintenance at the same time. Removable gyro mounting platform and receiver mount are more rigid and ergonomically friendly. Rudder servo is mounted inside the frame for more central CG point to improve 3D performance, as well as minimize crash damage to the servo. At the heart of the helicopter, the high efficiency Align MX series motor provide continuous power.

T-Rex 500E Pro DFC features high stability, excellent gust resistance, superior control feel, and being 500 is just the right size/price, it is the ultimate choice for enthusiasts.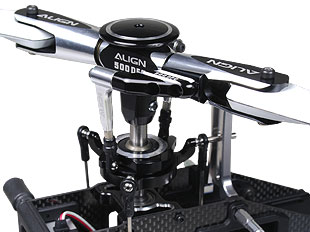 Equipped with the low CG DFC rotor head, exhibits exhilarating 3D performance and unimaginable flight speed,New 500DFC CCPM Metal Swashplate and metal main shaft bearing block.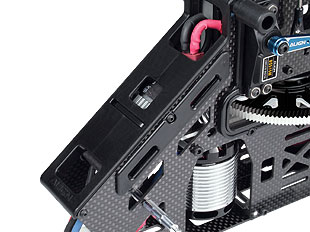 Newly designed electronic equipments and ESC mount.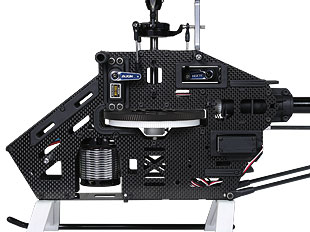 Unique carbon composite technology which effectively strengthen the weak areas and simplify electronics installation.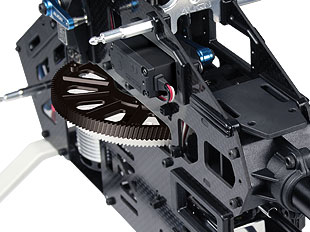 Uses high precision slant tooth (helical) main gear, with higher load sustainability and lower noise output.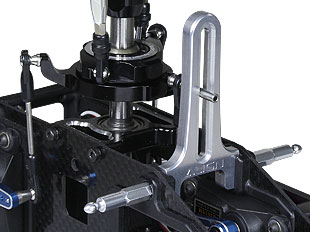 Newly Metal Anti Rotation Bracket.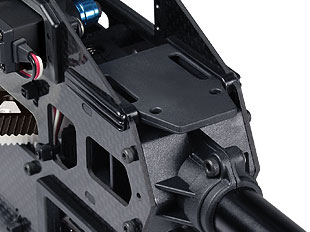 Newly designed Gyro and Receiver mount.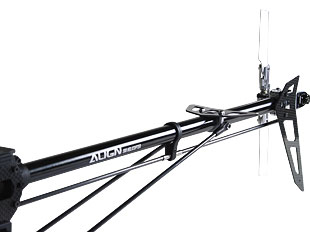 Brand new carbon tail control pushrod assembly.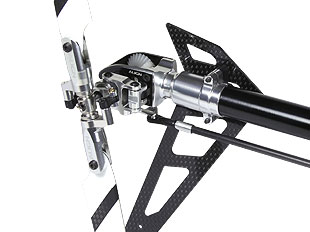 High efficiency shaft tail drive system,High quality new tail gearbox design, combined with new dual point mounted tail pitch control assembly.
Standard equipment
●RCE-BL70G Brushless ESC x 1
●500MX Brushless Motor(1600KV) x 1
●DS515M Digital servo x 3
●DS525M Digital servo x 1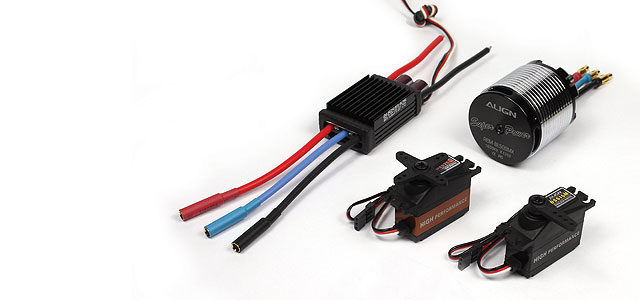 Specification
● Length: 868mm
● Height: 275mm
● Main Blade Length: 425mm
● Main Rotor Diameter: 978mm
● Tail Rotor Diameter: 206mm
● Motor Drive Gear:12T
● Main Drive Gear:134T
● Autorotation Tail Drive Gear: 145T
● Tail Drive Gear: 36T
● Drive Gear Ratio: 1:11.17:4.03
● Weight(With Motor): 1210g
Accessories
●T-REX 500PRO DFC Kits Set x 1
●425 3G Carbon fiber blades x 1
●500MX Brushless Motor(1600KV) x 1
●DS515M Digital servo x 3
●DS525M Digital servo x 1
●RCE-BL70G Brushless ESC x 1
Radio transmitter and electronic equipment required for assembly:
●Transmitter(7-channel or more, helicopter system)
●Receiver(7-channel or more)
●6S Li-Po 2600 ~ 4600mAh x 2 (3300mAh suggestion)
●Digital Pitch Gauge
●3GX Flybarless System x 1 set
Additional Information
| | |
| --- | --- |
| Brand | Align |
| Dimensions | No |
| Product Weight | 1210g |
| MPN | RH50E02XT |
| Heli Category | Heli Kits |
| Sub Category | No |