Heli, TREX 250 PRO DFC Super Combo
SKU
RC63025001 MPN: KX019011AT
Heli, TREX 250 PRO DFC Super Combo
Heli, TREX 250 PRO DFC Super Combo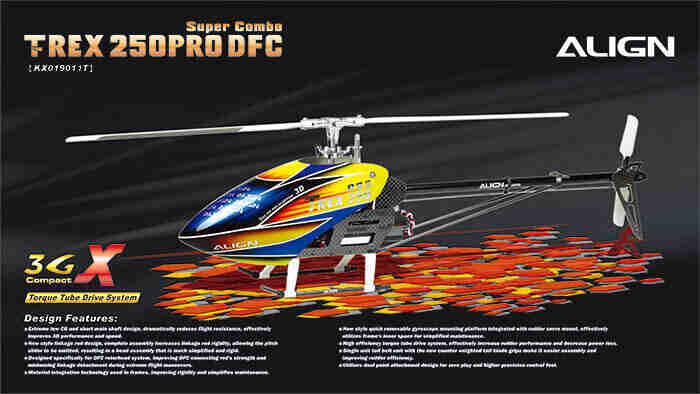 In addition to the superior 3GX flybarless system, the T-Rex 250 PRO DFC also incorporated numerous new features based on Align's innovative designs and outstanding manufacturing process, resulting in a helicopter that is overall more stable, easier to fly, and excels in 3D performance.

As a standard equipment of the T-Rex 250 PRO DFC, the popular DFC head features low CG, low wind resistance, providing more direct and precise flying response, with excellent high speed. Frame structure utilizes material integration techniques, allowing perfect assimilation between plastic alloy with carbon fiber, maintaining structure rigidity while simplifying maintenance. Unique gyro/servo integrated mount enabling quick removal, simplifying maintenance while keeping a clean overall aesthetic look. Utilizes highly efficient shaft drive system, effectively minimize tail power output loss. Tail gearbox is an integrated unit with a new rudder control system, with solid construction and zero slop, resulting in more precise control feel.

Although T-Rex 250 PRO is small in size, it's packed with performance capable of any difficult flight maneuvers. No longer do you need to find a large open space to fly; you can enjoy flying in your backyard or any larger indoor space.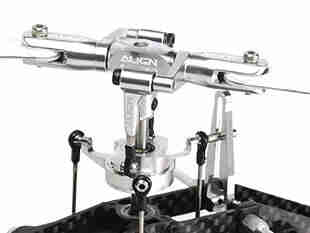 The 250 DFC flybarless rotor head system utilizes extreme low CG design, effectively reduces resistance during flight, increased flight responsiveness and precision.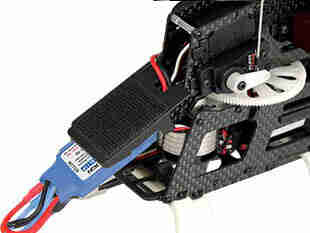 New battery mounting platform with integrated mount for ESC for ease of install and wire management.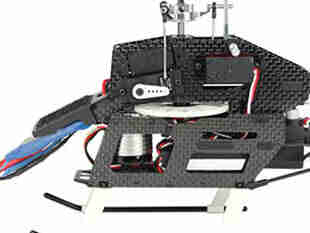 3K side plates with imbedded material technology, allowing servos to be installed without a nut.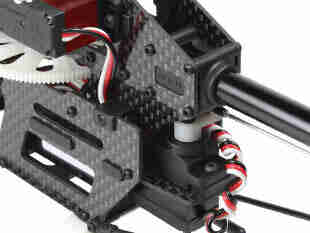 New style gyro mount with integrated rudder servo mount for centralized CG, advantageous to 3D flying, imbedded side frame rudder mount rail design, for ease of maintenance.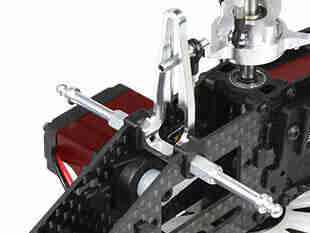 New style metal swashplate.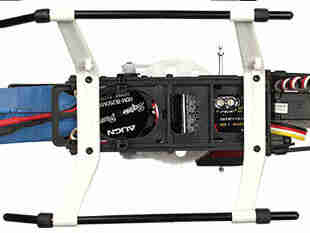 New style frame base plate with access window to gyro adjustment.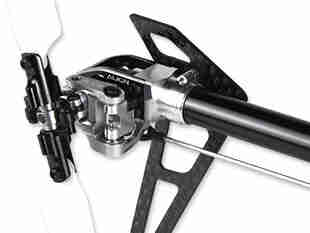 Utilizes dual point attachment design for zero play and higher precision control feel.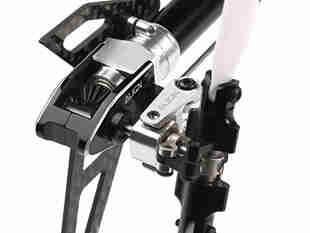 New style single piece tail gear box.
Standard equipment
●RCE-BL15P 15A Brushless ESC x 1
●RCM-BL250MX(3600KV) Brushless motor x 1
●DS415M Digital servo x 3
●DS425M Digital servo x 1
●3GX Flybarless System x 1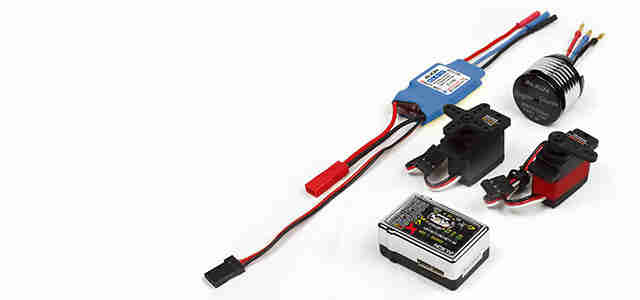 Specification
●Length:431mm
●Height:150mm
●Main Blade Length:205mm
●Main Rotor Diameter:460mm
●Tail Rotor Diameter:108mm
●Motor Ponion Gear:15T
●Main Drive Gear:120T
●Tail Drive Gear:28T
●Drive Gear Ratio:1:8:4.28
●Weight(With Motor):260g
Accessories
●T-REX 250 PRO Kit Set x 1 set
●250DFC Main Rotor Head Upgrade Set x 1set
●3GX Programmable Flybarless System x 1 set
●205 main blades x 1set
●205D Carbon main blades x 1set
●RCE-BL15P 15A Brushless ESC x 1
(Build-in 5~6V adjustable BEC)
●RCM-BL250MX(3600KV) Brushless motor x 1
●Motor ponion gear 15T x 1
●DS425M Digital servo x 1
●DS415M Digital servo x 3
●Clip x 1
●#00 Philips screw driver x 1
●0.9mm Hex head wrench x 1
●1.3mm HSS Hexagon screw driver x 1
Radio transmitter and electronic equipment required for assembly:
1.Transmitter(6-channel or more,helicopter system)
2.Receiver(6-channel or more)
3.Pitch gauge、Digital Pitch Gauge
4.11.1V 3S Li-Po 850mAh battery x 1
3GX Programmable Flybarless System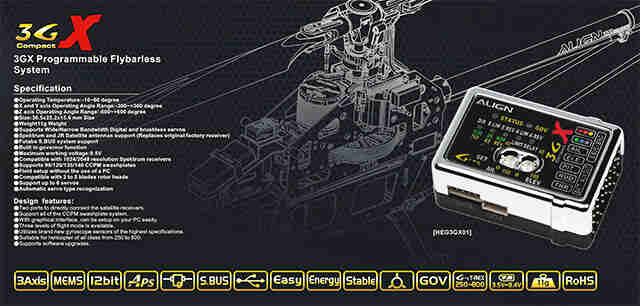 ●Brand new redesigned 3GX represents a new generation of multi function flybarless system. The dramatically improved performance will create immediate impact on any enthusiasts.
●3GX is currently the smallest and lightest flybarless system on the market. Two ports to directly connect Spektrum and JR satellite receivers, along with full support of Futaba's S-BUS system.
●Based on the 3G FL760 manual setup process, the 3GX can be setup in a few minutes through a simple process. In addition, the 3GX can support all of the CCPM swashplate system currently on the market including 90, 120, 135, and 140 degrees swashplates.
...
[+] More
3GX Programmable Flybarless System
●Operating voltage range:DC 3.5V~8.4V
●Operating current consumption:<80mA @4.8V
●X and Y axis Operating Angle Range:-300~+300 degree
●Z axis Operating Angle Range:-600~+600 degree
●Sensor resolution:12bit
●Supports 90/120/135/140 CCPM swashplates
●Spektrum and JR Satellite receivers support (Replaces original factory receiver)
●Futaba S.BUS system support
●Supports Wide/Narrow Bandwidth Digital and brushless servos
●Compatible with 2 to 5 blades rotor heads
●Built in governor function
●Maximum working voltage:8.5V
●Compatible with 1024/2048 resolution Spektrum receivers
●Field setup without the use of a PC
●Support up to 6 servos
●Automatic servo type recognization
●Operating Temperature:-20~60 degree
●Operating Humidity:0%~95%
●Size:36.5x25.2x15.6 mm Size
●Weight:11g
More Information

| | |
| --- | --- |
| MPN | KX019011AT |
| Brand | Align |
| Product Weight | 260g |
| Heli Category | Heli Kits |