Heli, TREX 650X Dominator Kit
SKU
RC63065002 MPN: RH65E02XT
Special Price
US$789.20
Regular Price
US$881.99
Heli, TREX 650X Dominator Kit
E
Heli, TREX 650X Dominator Kit (RH65E02XT)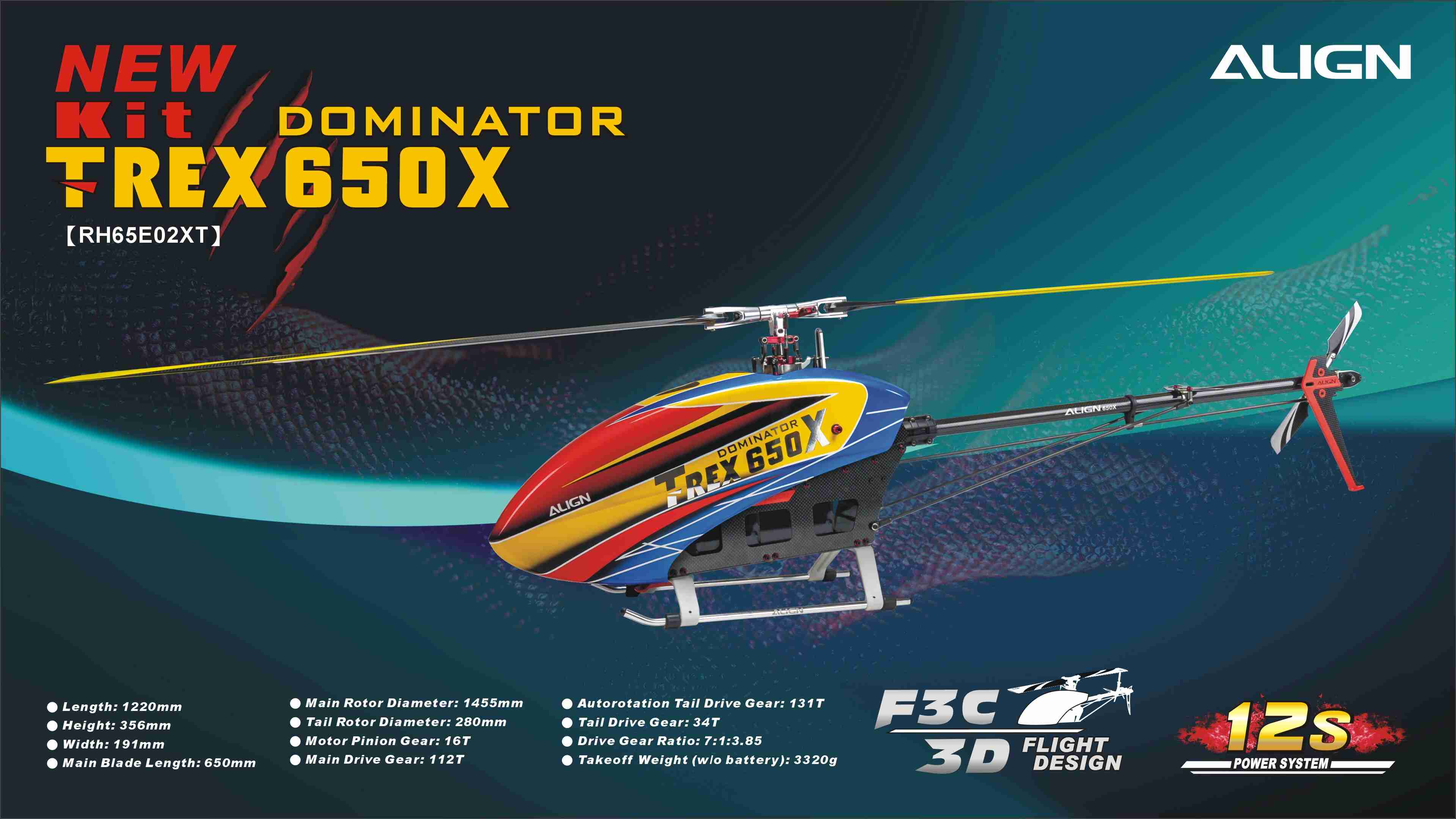 "T-REX 650X Dominator Super Combo" is special design both for hobby use and 3D competition. T-REX 650X body size is between T-REX 600 and T-REX 700 grade helicopter. It adopts integrated composite material and technology that efficiently enhance structure intensity and make repair convenience. The upper narrow main frame allow to strengthen the structure but also prevent body from deformation, vibration and gear abrasion in extreme flights. The lower wider main frame is designed with quick release latch for battery that makes battery assembly and disassembly more convenient and safe. The flybarless rotor head is low CG design better for 3D flight allow to reduce wind-resistance also improve superior flying feel and stability. So ALIGN T-REX 650X shows excellent flight performance in both 3D aggressive flight, slow 3D and F3C flight!

T-REX 650X is equipped with ALIGN 800MX motor with excellent torque and high efficiency. Besides, the reinforcement plate can not only strengthen machine structure, but also can efficiently lower motor heat up to 20°C on every flight on average. Pilots can choose main blades from 600~650mm based on their preference for outstanding flight performance.

"T-REX 650X Dominator Super Combo" is the helicopter for all pilots that has both super power and excellent stable 3D flight like 700-grade helicopter and elegant slow 3D dynamic flight performance like 600-grade helicopter.
Focus Shots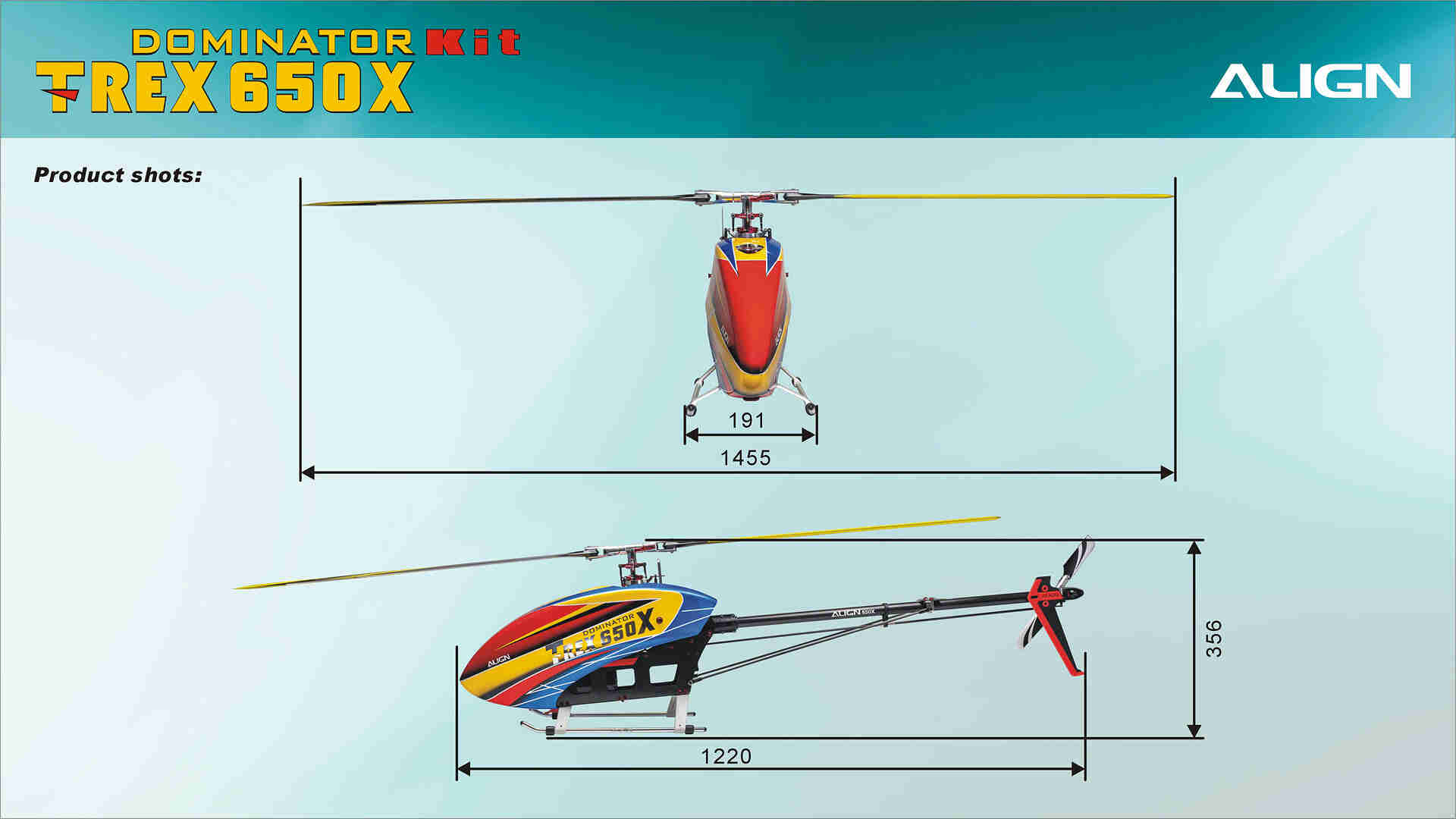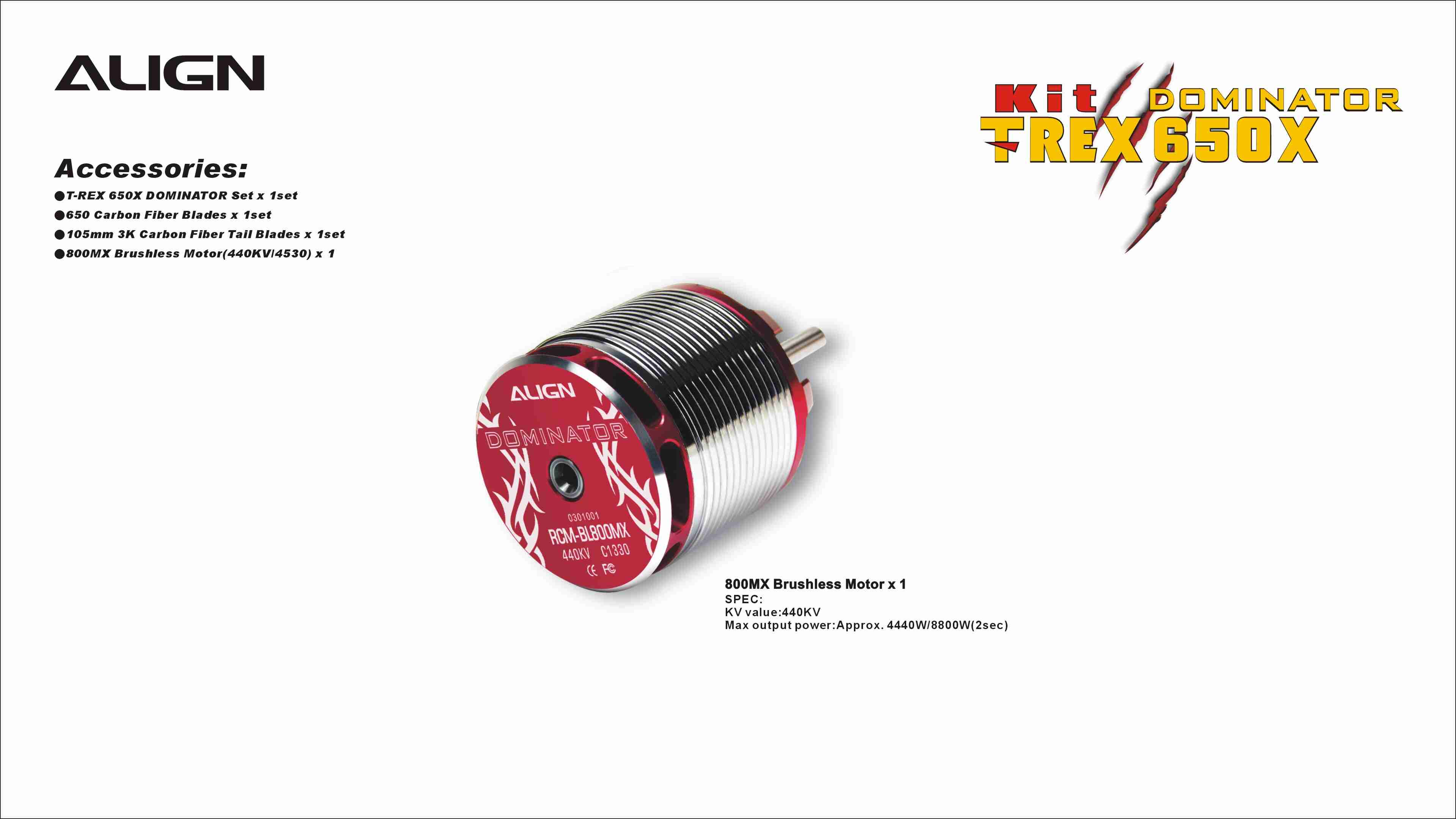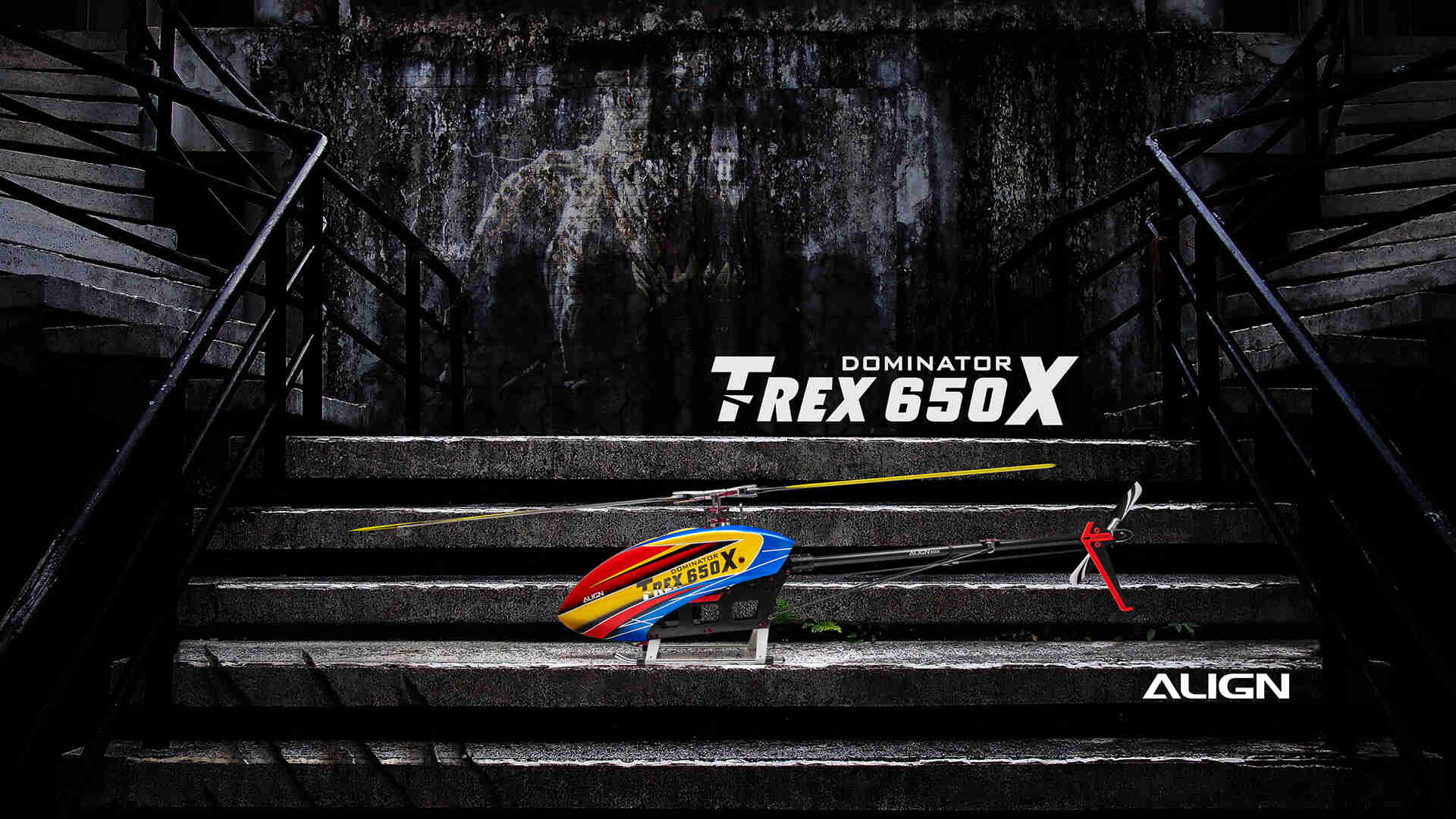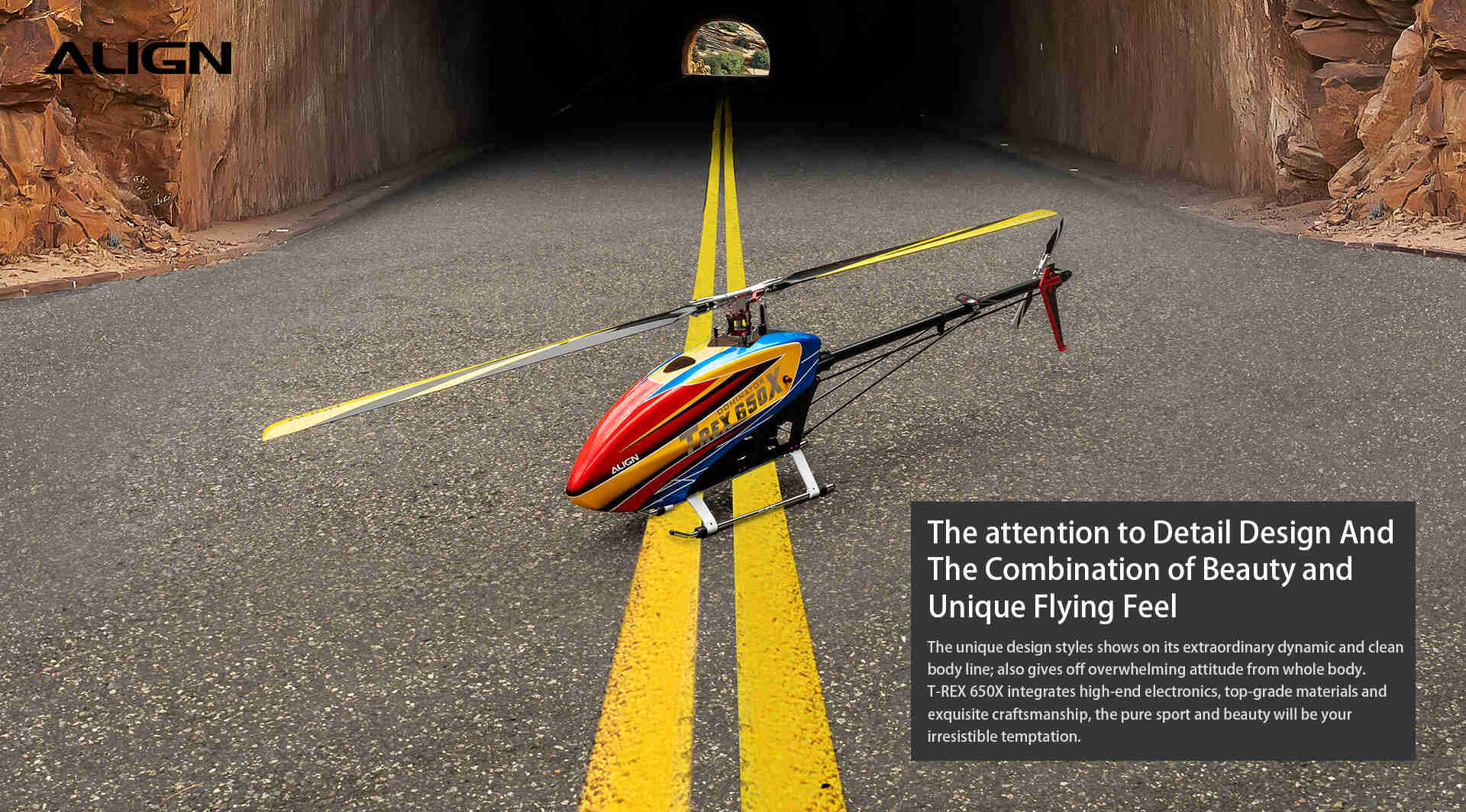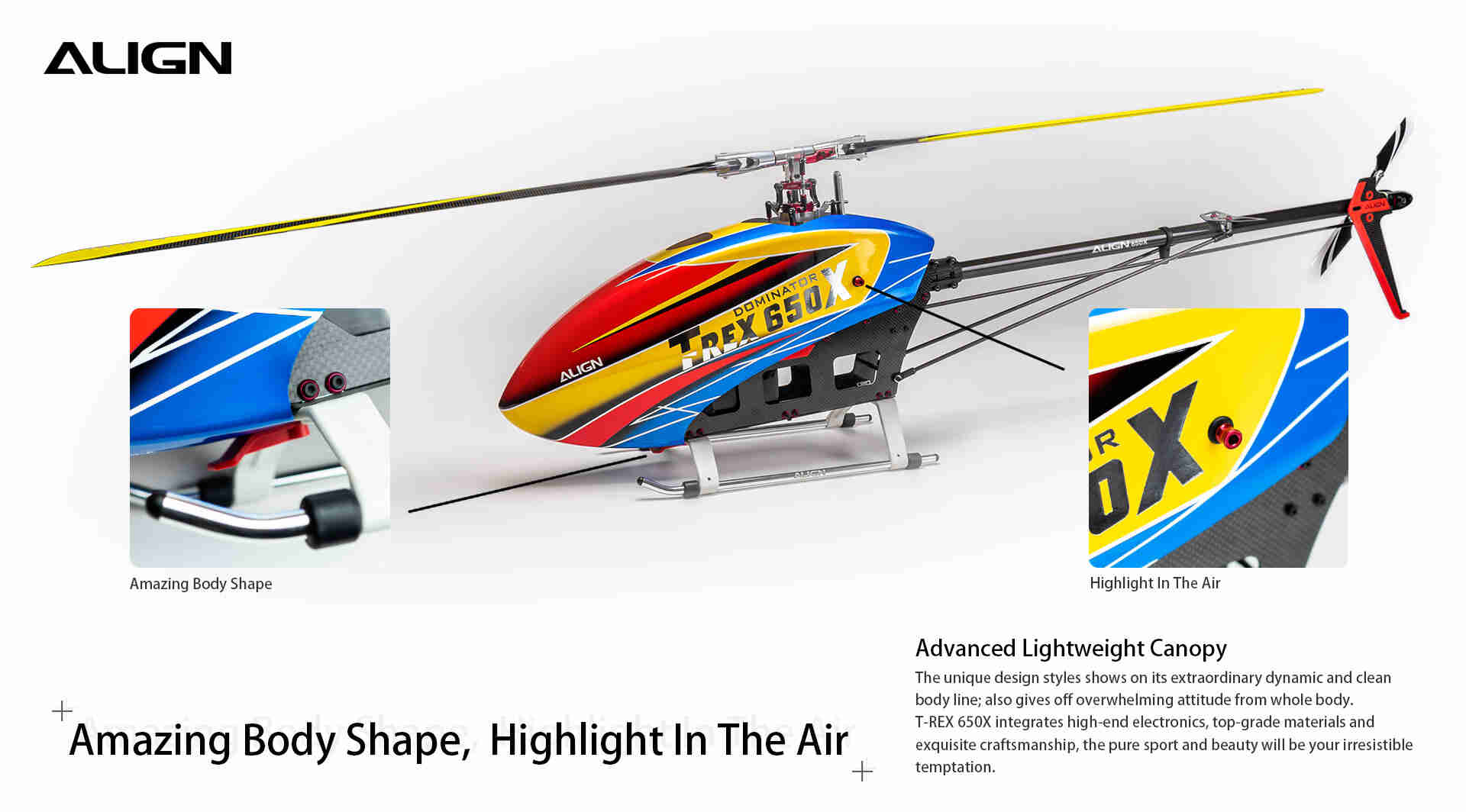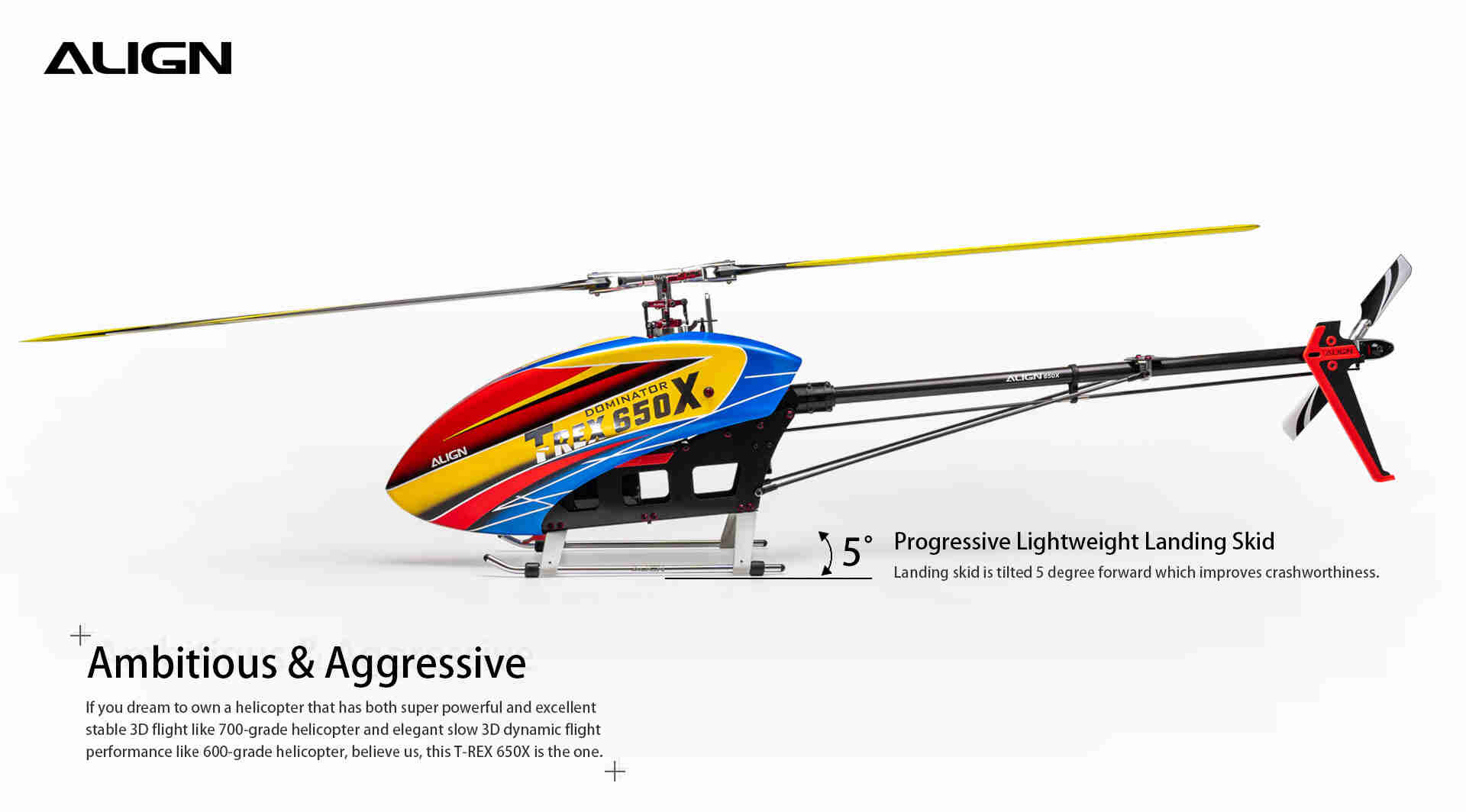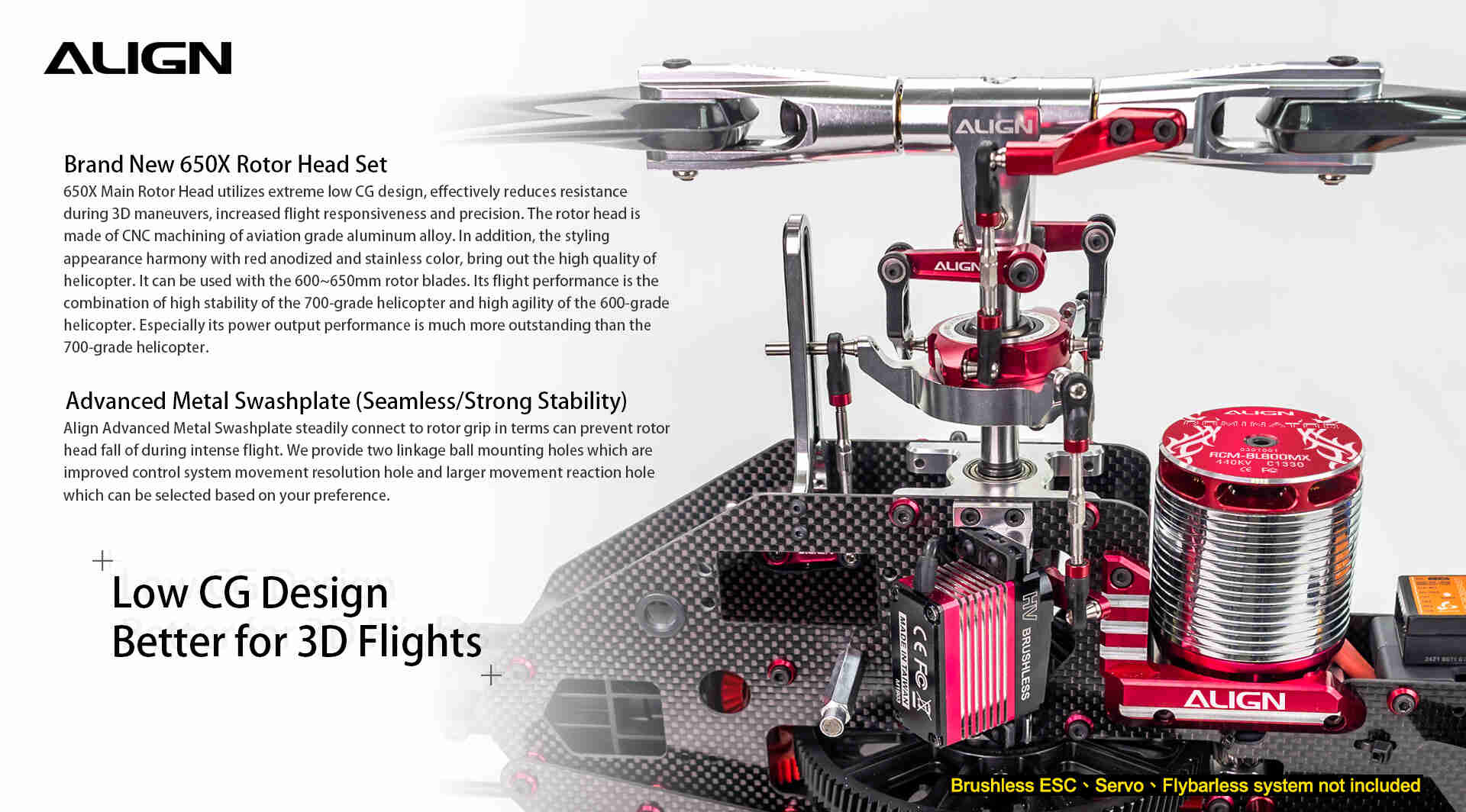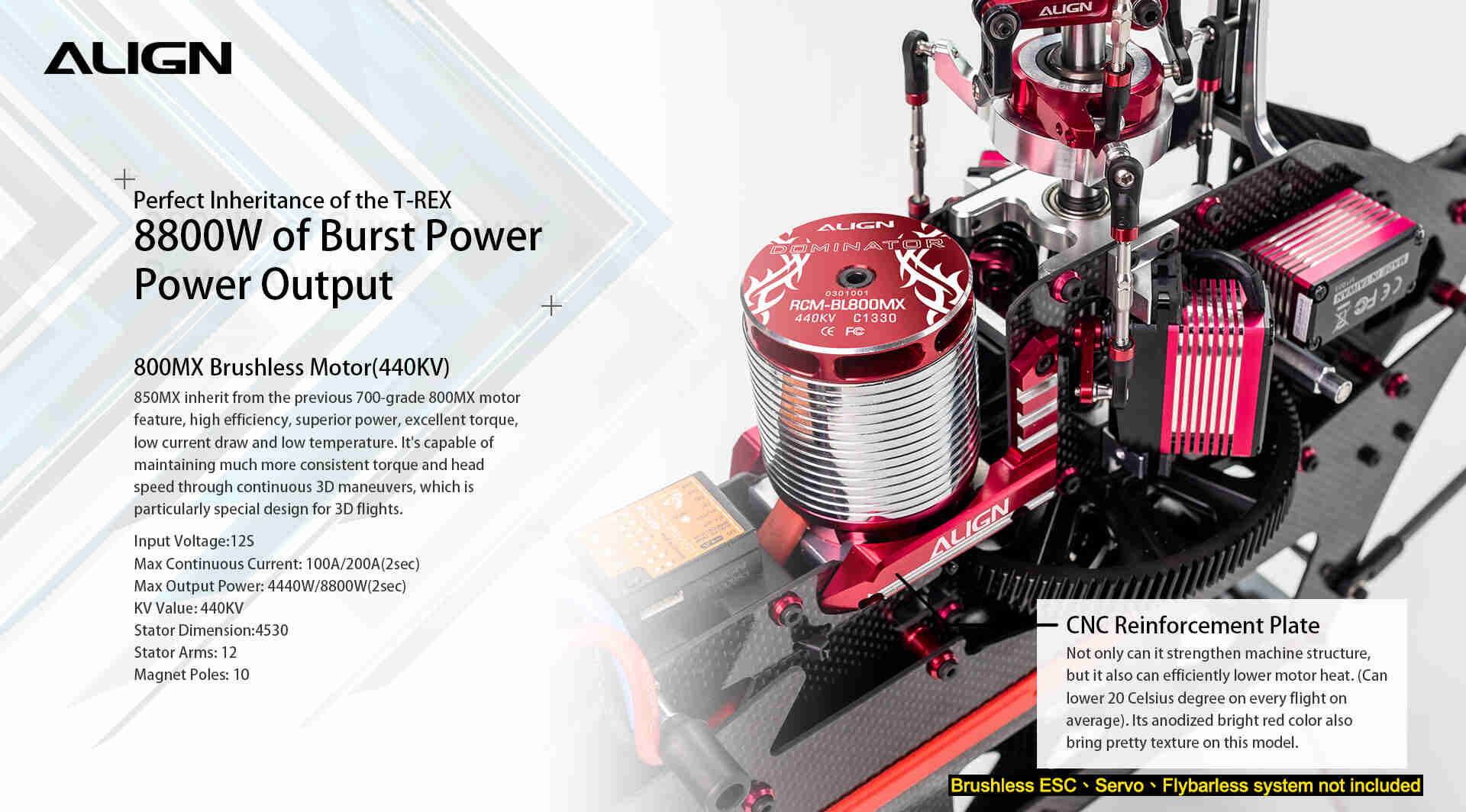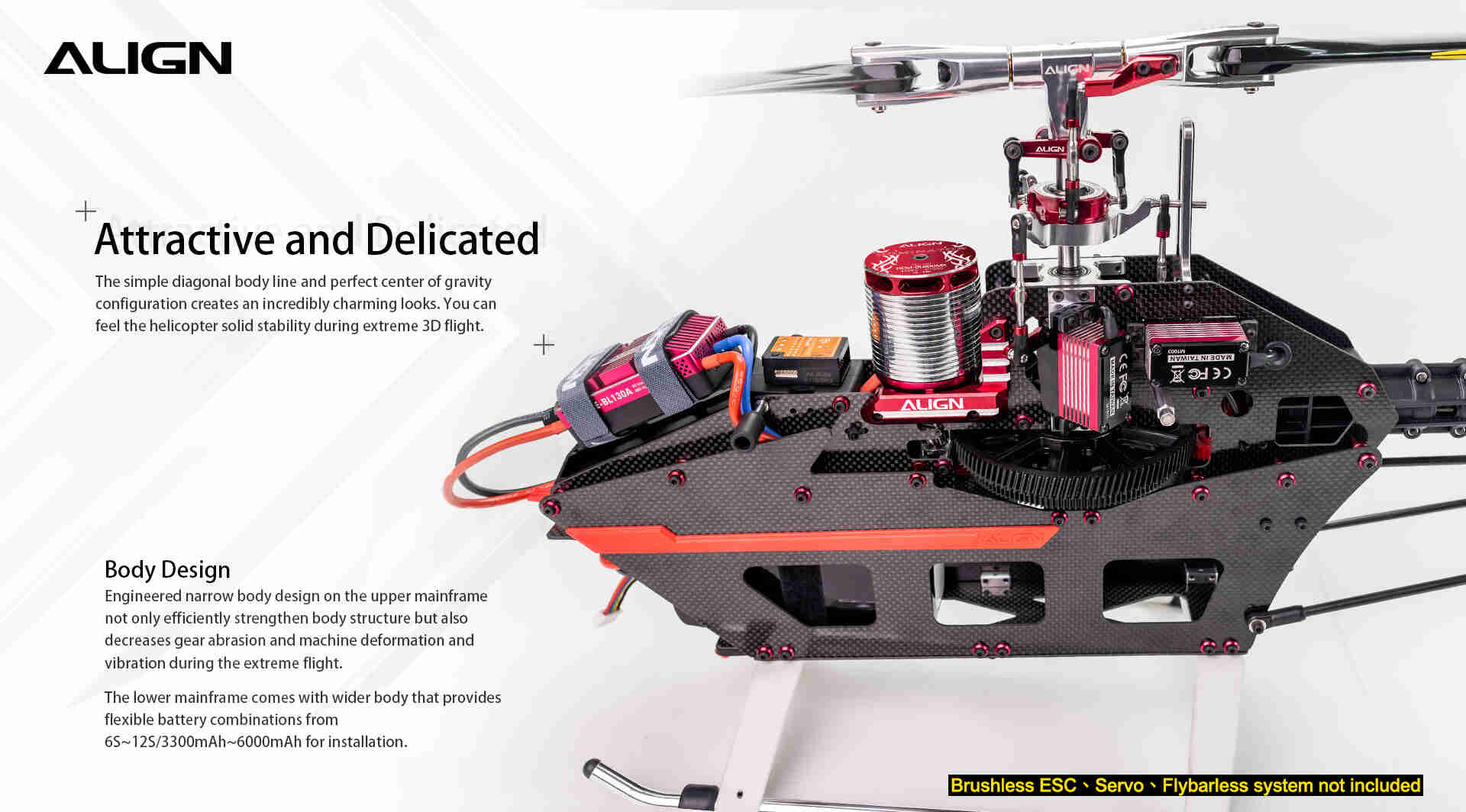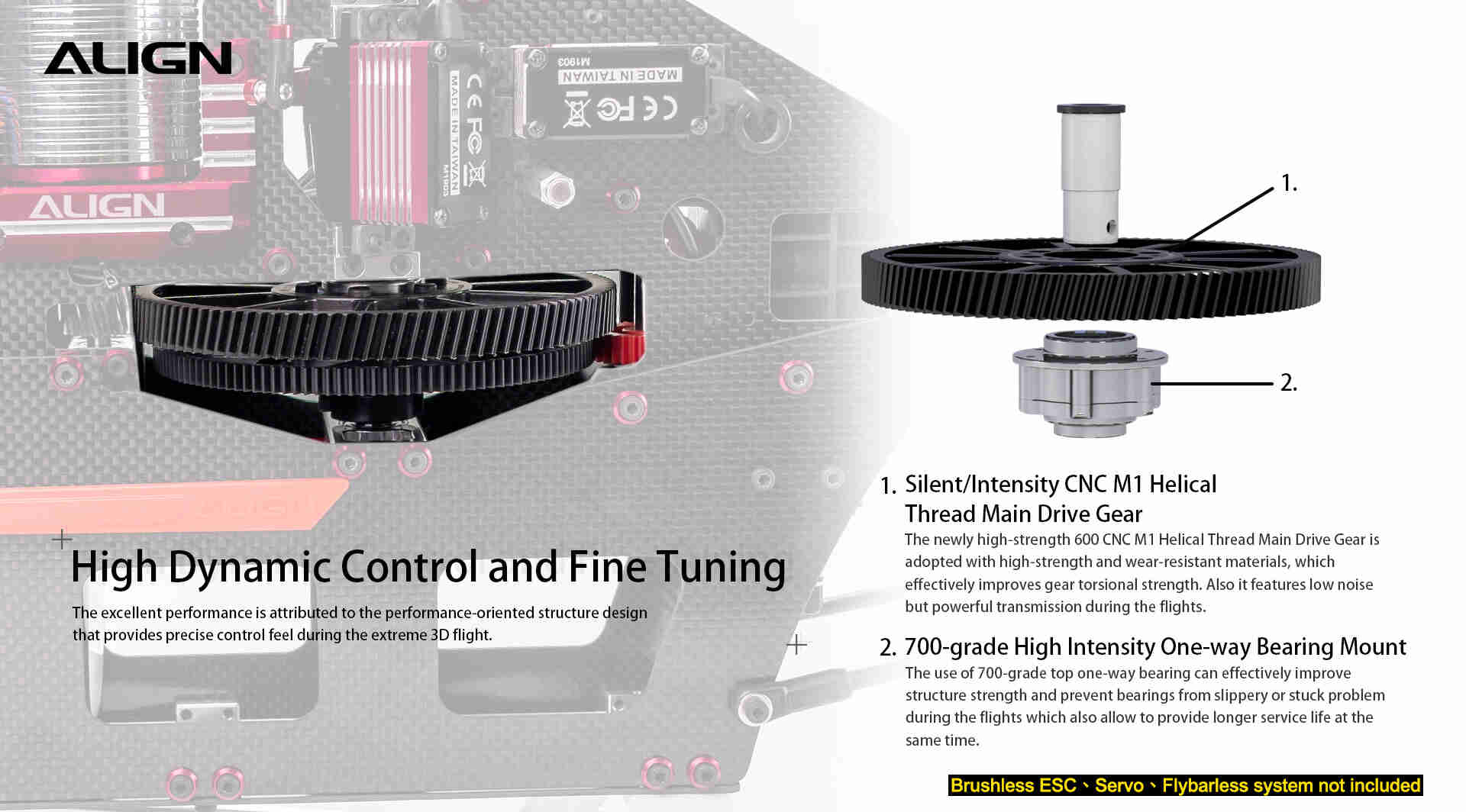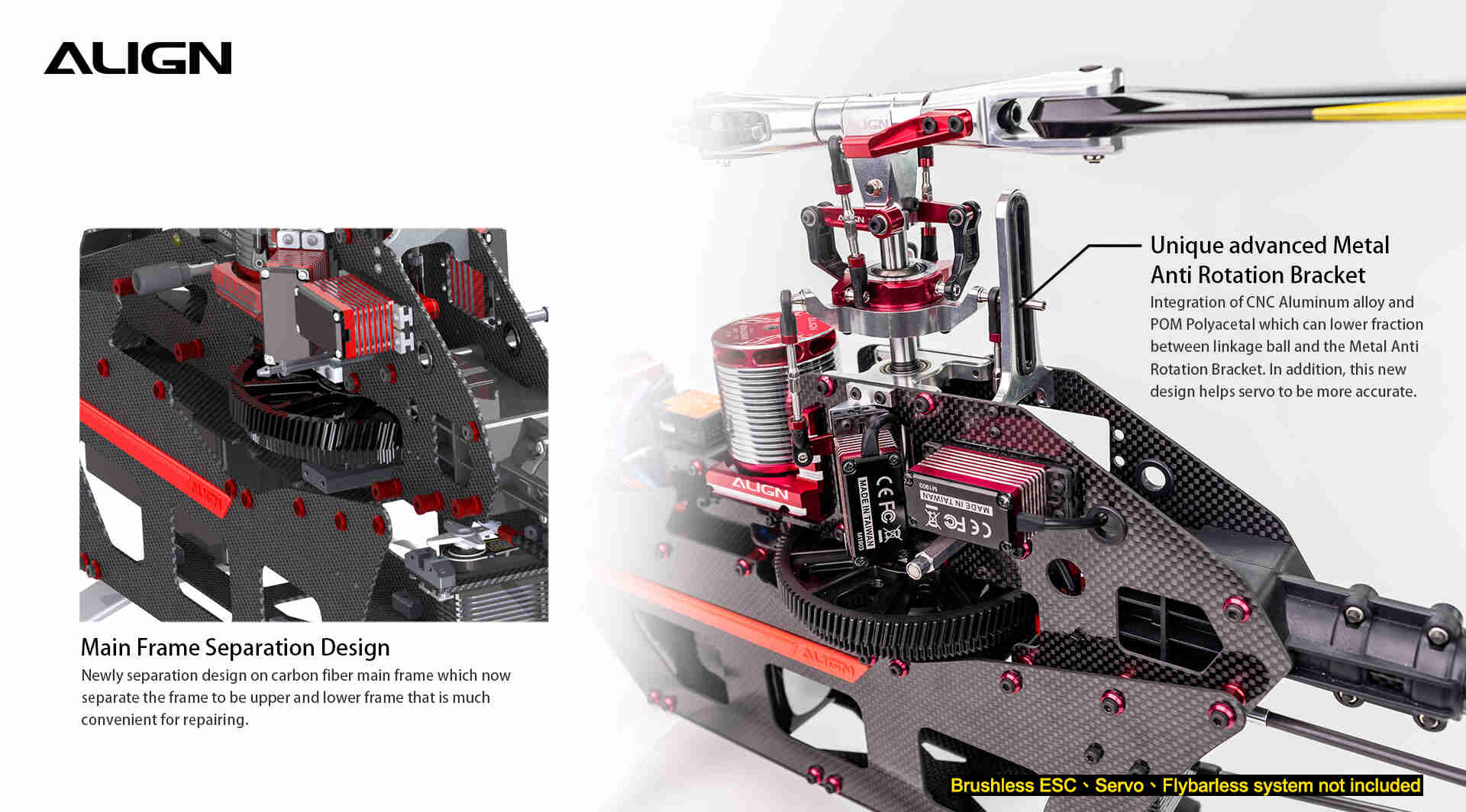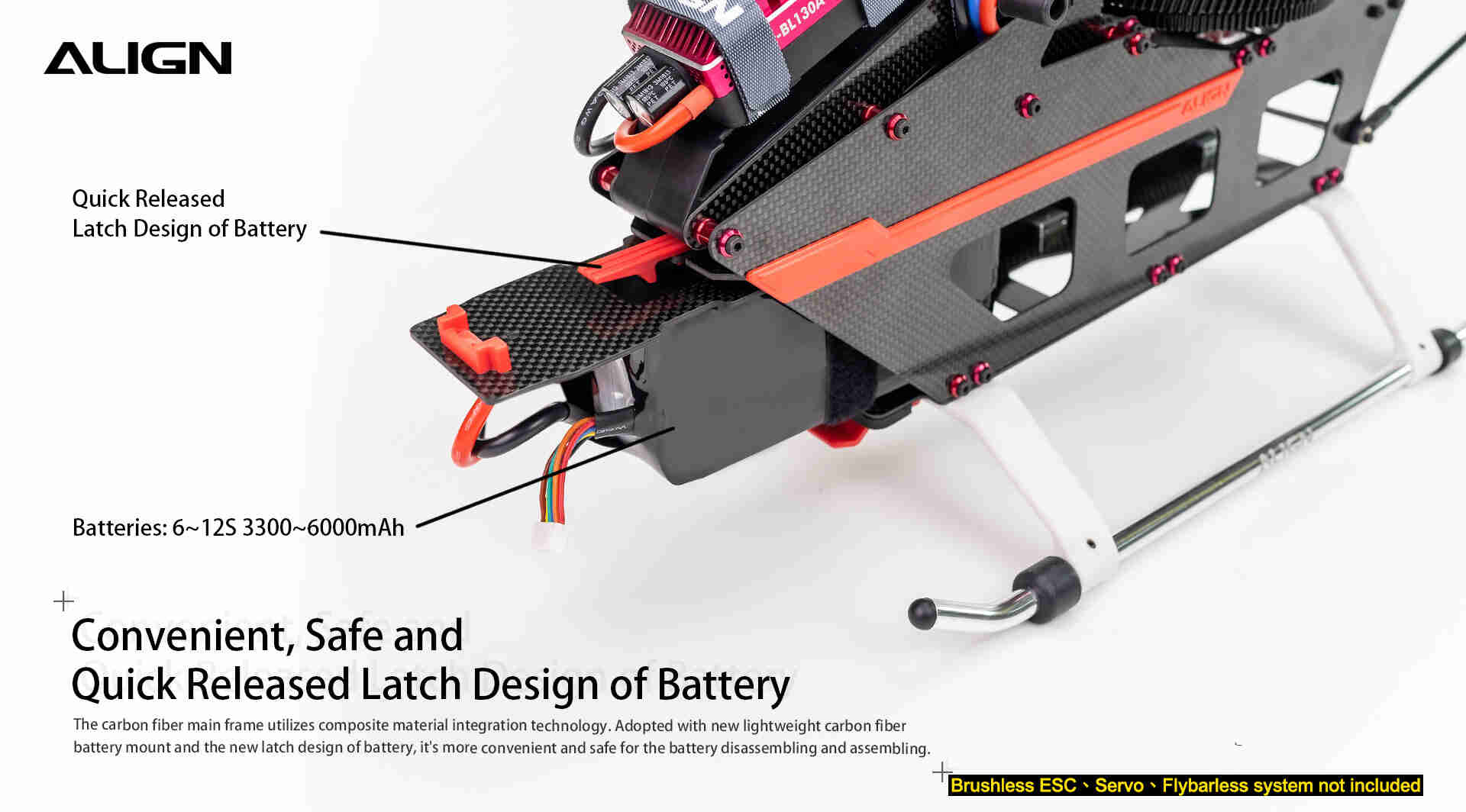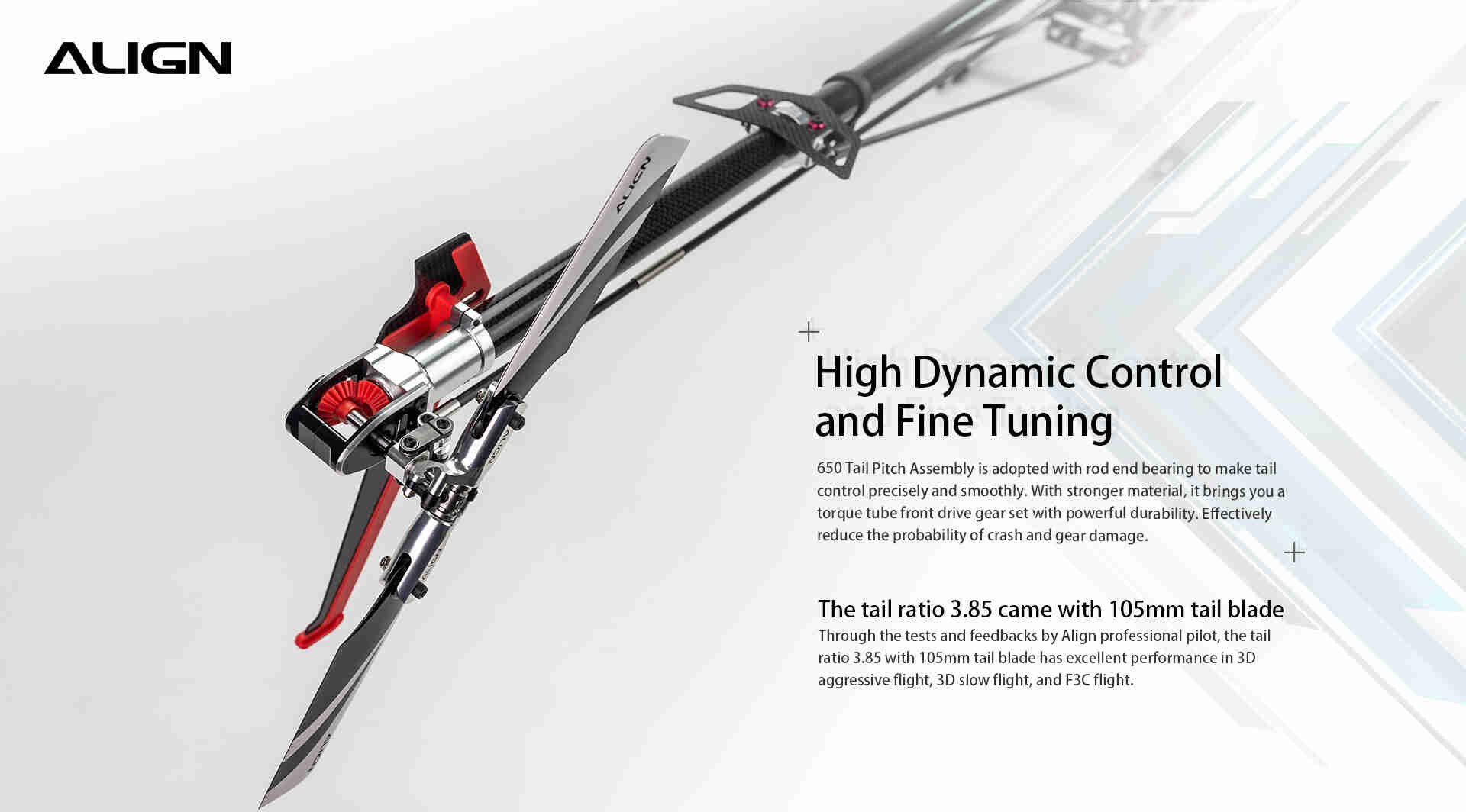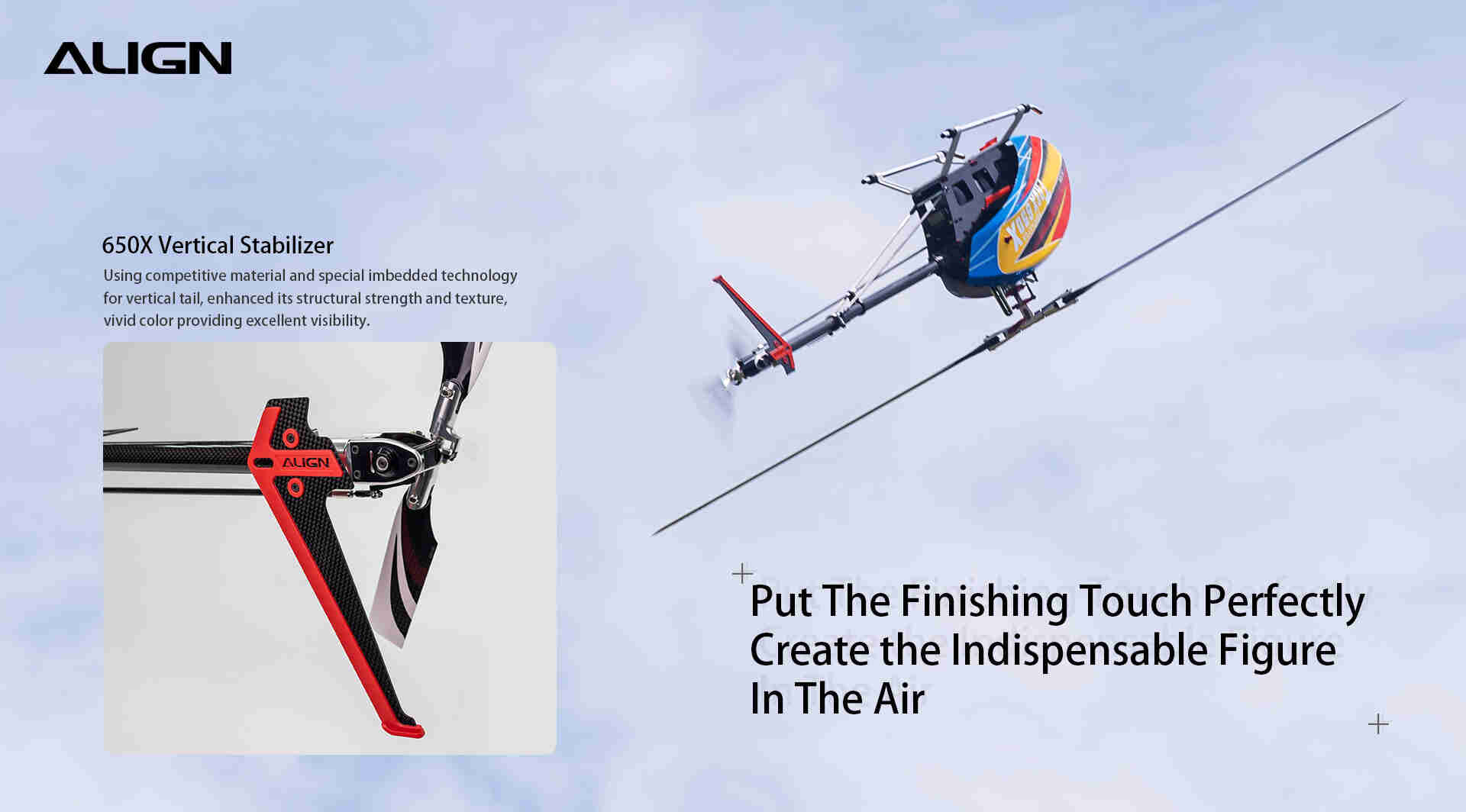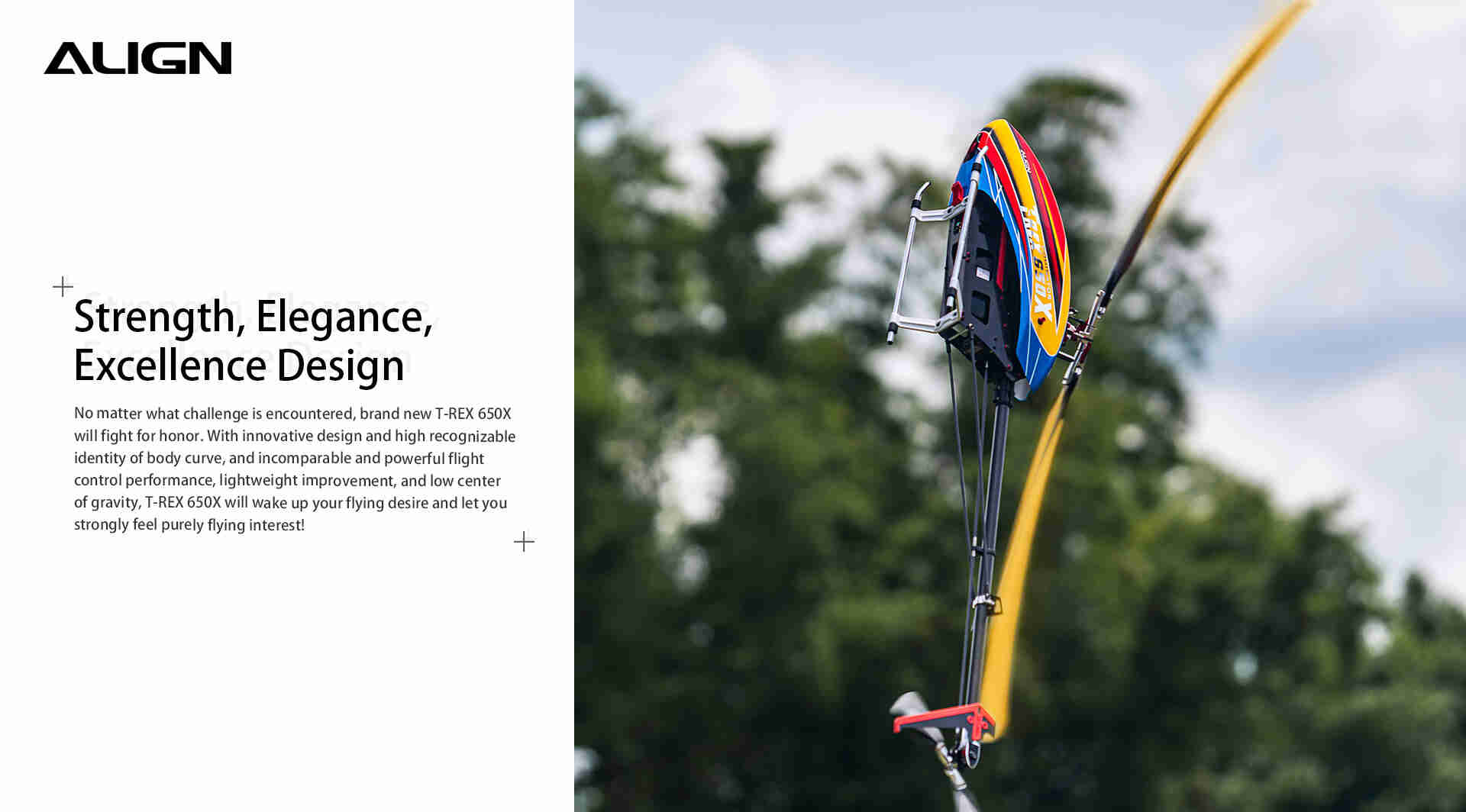 Specifications:
● Length: 1220mm
● Height: 356mm
● Width: 196mm
● Main Blade Length: 650mm
● Main Rotor Diameter: 1455mm
● Tail Rotor Diameter: 280mm
● Motor Pinion Gear: 16T
● Main Drive Gear: 112T
● Autorotation Tail Drive Gear: 131T
● Tail Drive Gear: 34T
● Drive Gear Ratio: 7:1:3.85
● Takeoff Weight (w/o battery): 3320g

Accessories:
● T-REX 650X DOMINATOR Set x 1set
● 650 Carbon Fiber Blades x 1set
● 105mm 3K Carbon Fiber Tail Blades x 1set
● 800MX Brushless Motor(440KV/4530) x 1

Radio Transmitter and Electronic Equipment:
● Transmitter(6-channel or more, helicopter system)
● Receiver(6-channel or more)
● 6S Li-Po 3000mAh-6000mAh x 2
● Digital Pitch Gauge
● CCPM Brushless Servo x 3
● Rudder Brushless Servo x 1
● Brushless ESC x 1
● Flybarless System x 1
800MX(440KV/4530) Brushless Motor:
● Input Voltage: 12S
● Max Continuous Current: 100A/200A(2sec)
● Max Output Power: 4440W/8800W(2sec)
● KV Value: 440KV
● Stator Dimension: 4530
● Stator Arms: 12
● Magnet Poles: 10
● Dimension: Spindle 6x56.7x107.5mm
● Weight: 510g
More Information

| | |
| --- | --- |
| MPN | RH65E02XT |
| Brand | Align |
| Heli Category | Heli Kits |
More Information

| | |
| --- | --- |
| MPN | RH65E02XT |
| Brand | Align |
| Heli Category | Heli Kits |